We are an Auckland scaffolding company that is easy to deal with, reliable, gets things done on time at the highest level of safety and workmanship.
Unity Scaffolding was forged between two great friends who wanted to create a sustainable company that would form the spine in the hope that many appendages added to it in the future would serve our family. Hence, our name is Unity.
The essence of family forms the DNA of Unity. At the core of this DNA: trust, honesty, integrity, honour and resilience are the values that governs this company.
Our team is our most prized asset. Members are selected for their skills and experience and, more importantly, their core values resonate with that of Unity. Every client will get the best service from Unity. We stand by this statement and that is our promise.
With over 20 years of experience in Main Contracting, our extensive knowledge in the 'how' to build small residential homes to large commercial projects is the reason why our clients chose UNITY.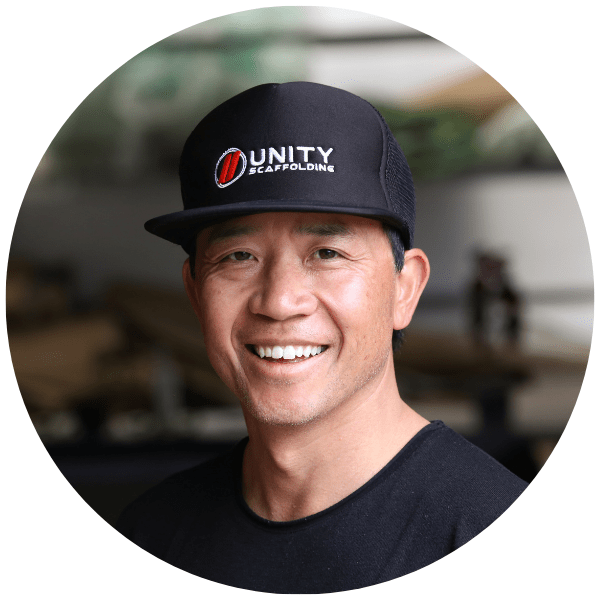 Thai Leng
My road to becoming a director of Unity Scaffolding is a road less travelled. I was born in Cambodia in the Khmer Rouge regime. My family had to escape the civil war in Cambodia hence made our treacherous journey to a refugee camp- Khao I Dang, in neighbouring Thailand and from there we were sponsored to Auckland in 1983. Our Kiwi sponsors were incredibly welcoming and loved us as one of their own which made a profound difference to my family and I. The seed of 'giving back' was sewn into me as a young man growing up in South Auckland.
I started my profession as a Physiotherapist, Traditional Chinese Acupuncturist and Sports Medicine Specialist in 2000. For 16 years, I owned and ran a private physiotherapy clinic named Physio8 in Remuera and retired at the end of August 2019. Treating patients for 9 hours a day for over 20 years allowed me to develop my skills in empowering a person's physical, emotional and spiritual well being.
So, what is the common thread that permeates between the medical and construction industry you might ask? It's people. You could say the seed had germinated. My stance for Unity is that every individual within our team are well looked after, respected and empowered. Unity is dedicated to serving our clients in the same way. Building strong relationships with our clients is our Scaffolding. Empowering men to be great is Unity.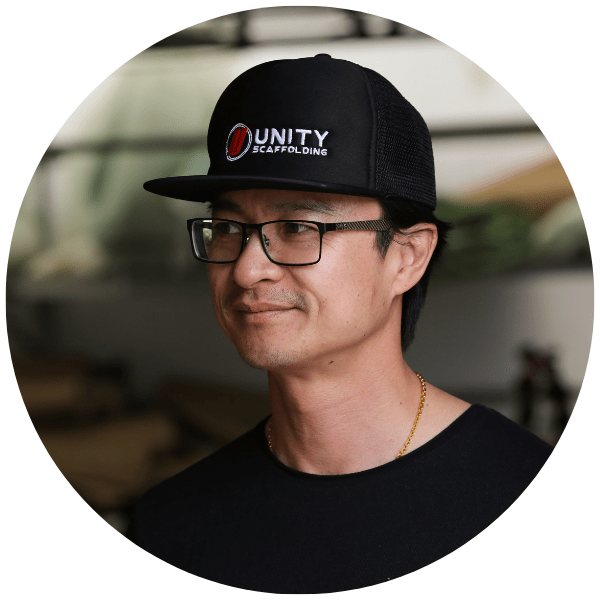 Chanh Huynh
At a very young age, I grew up seeing my parents slave tirelessly on our rice fields in a small seaside village called Bac Lieu in South Vietnam. The Viet Congs were dominant at that time; their might drove us out off our rice fields. In 1982, we fled on a boat carrying refugees to a camp called Sunie-Besi which was on Bidong Island near the coast of Kuala Terengganu, Malaysia. Other boats carrying other refugees were not so lucky as they were ambushed and then pillaged by Thai pirates. We were in greener pastures when we were sponsored to Auckland in 1983 where the real work started.
​Hard work was the only vehicle to drive through the hardship and this was typical of any tale told by refugees. At 13 years old, I would help my parents work at our bakery from Friday after school till late Sunday afternoon. This included 2 am starts on Saturday and Sunday mornings until I was 16. After hanging out with the wrong crowd and getting up to no good, I left high school to seek a career in carpentry after seeing an advert in the Manukau Courier. Seeing my parents' struggles has forged my hunger and ambition to this very day. In all my endeavours, I would set a goal, mapped out in detail all the possible steps to get there, and gave up everything in order to achieve these goals. This obsession permeates into my Muay Thai boxing as well as into my profession as a Main Contractor and now at Unity. It is a delight to actualise dreams for others. This is my promise to our clients.
Unity Scaffolding has proved to be the three things I need in tradesmen: Competitive, Reliable and Knowledgeable. We engaged Thai and his team on a difficult site in Penrose and they supported and delivered a high level of customer service. I highly recommend them!
Unity have an awesome team, always carry things out to top quality. Pleasure to deal with every time.
As a developer I want all my projects to run smoothly and with minimal hassles so having Unity Scaffolding on the project gave me that peace of mind. They were professional, efficient and executed our build plans well. I was most impressed with their health & safety standard. Great bunch of blokes to deal with, too. I would highly recommend them.
Great professional company to deal with, reliable, efficient, left my site clean every day. I thoroughly recommend Unity Scaffolding.