Scaffolding for Home Renovation & Maintenance Work
We provide scaffolding services for home renovation/repair projects in the greater Auckland area.
Unity Scaffolding is an Auckland scaffolding company that provides residential scaffolding services for jobs of all sizes. Our scaffolding teams are made up of friendly, polite, and trustworthy scaffolders, and every team holds the highest scaffolding certification in New Zealand. Our management team are builders and construction professionals — not to mention keen DIYers! So we understand what you need to get your job completed, and how to make sure you get it done well and on time.
We believe that for us to achieve our goals, we need to do everything we can to help you achieve yours! Our history of providing outstanding customer service to a wide range of home owners is evidence that we truly care about you and your home.
Home Scaffolding Services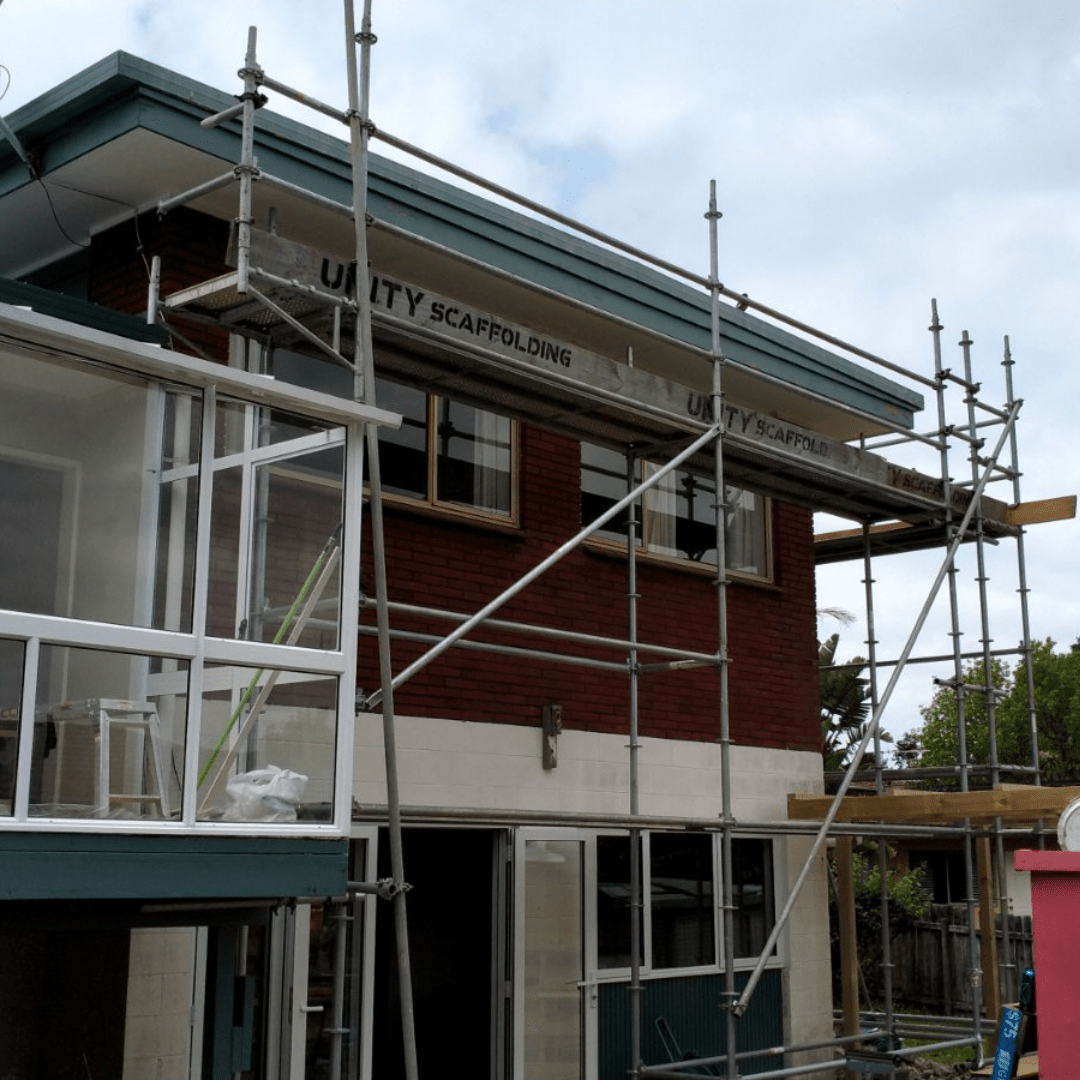 Painting
We're specialists in scaffolding for painting. We know that you need good access to every corner of your building, and we make sure you have it. Our scaffolding for painting makes the whole job safer, faster, and easier!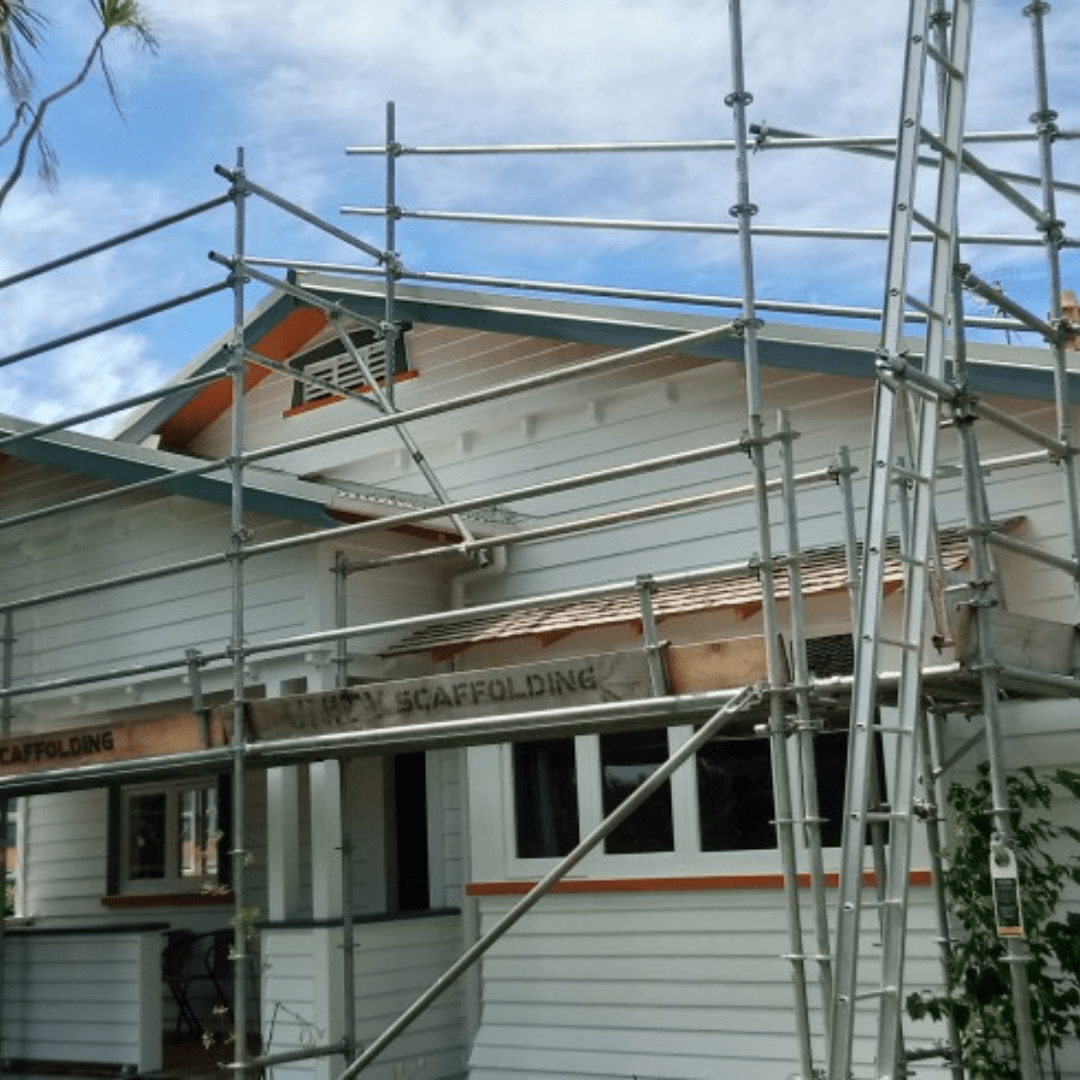 Roofing
If you're on your roof, you should have edge protection. Period. Good roof edge protection provides safe access, and doesn't get in the way when passing up materials or working.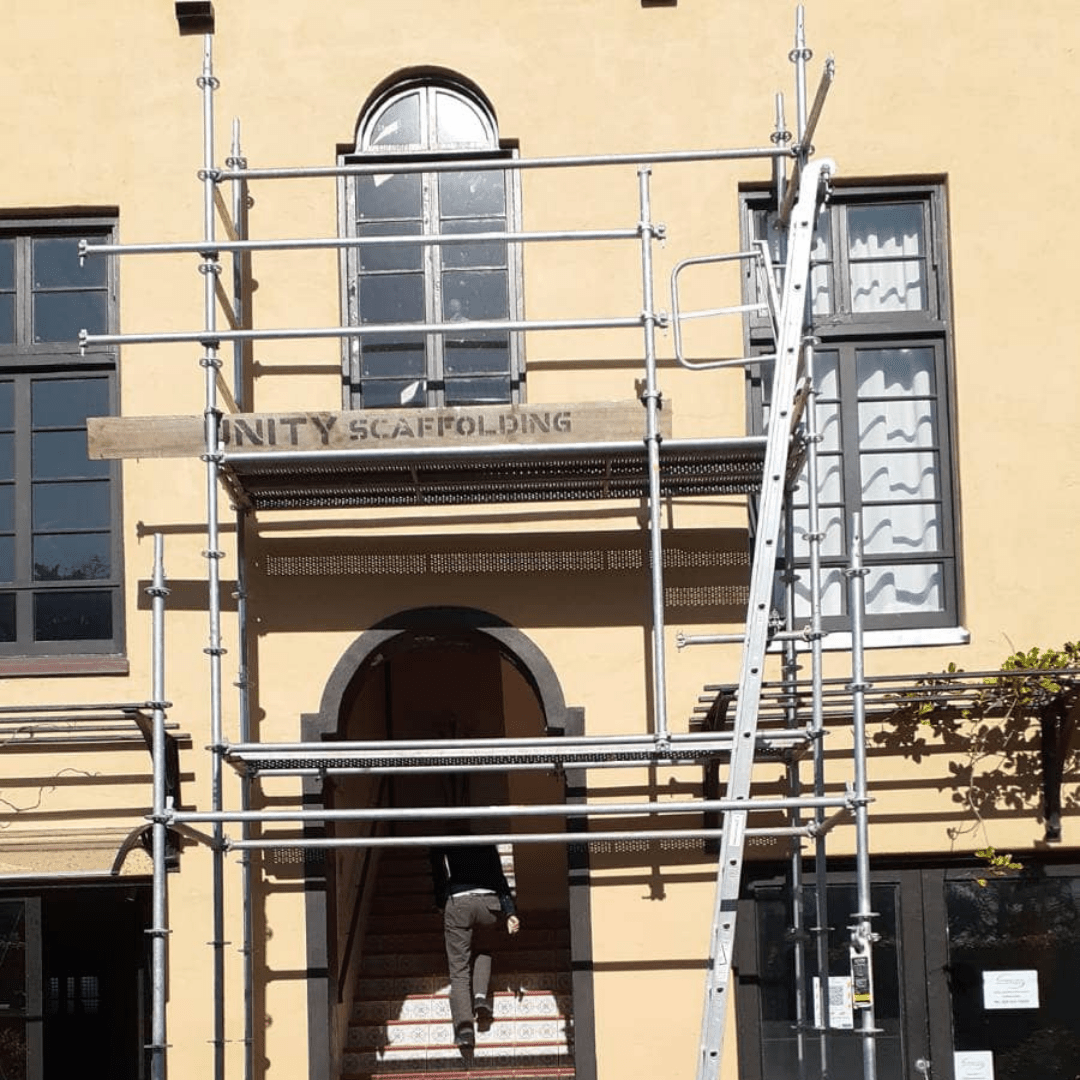 Windows
Repairing or replacing a window? Trying to wrestle a big, heavy window while balancing on a ladder is difficult and dangerous. A small, economical scaffold makes it easy.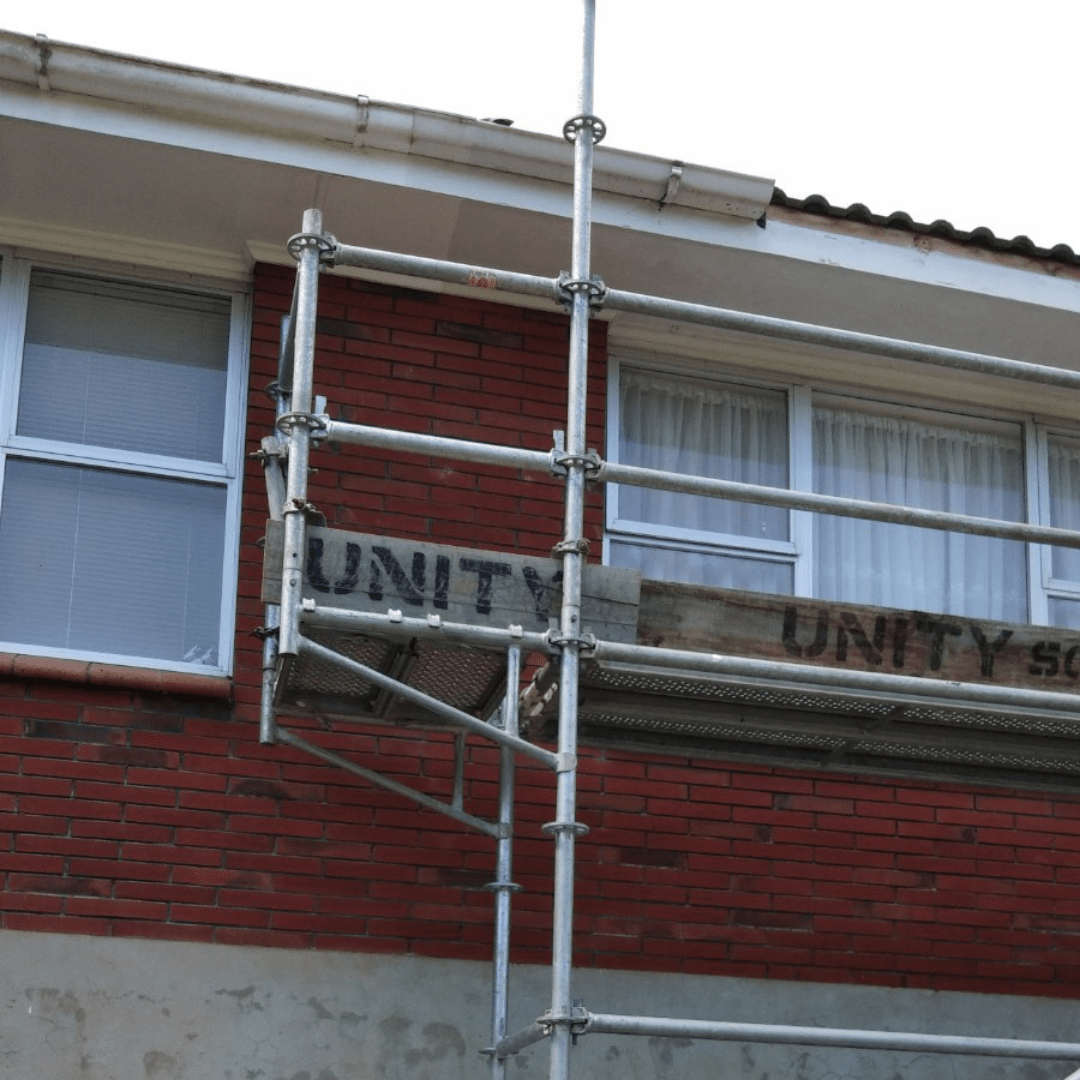 Guttering
Installing guttering requires: measuring & marking, installing all the brackets, then attaching the gutters. That's a lot of up and down and moving the ladder around. Our scaffolds allow you to work at a comfortable height, without all the extra exertion!
Spouting Job in Hillsborough
"I required scaffolding for the replacement of my spouting, plus required the painting of soffit and fascia. Unity Scaffolding came round, measured up and sent me a quote the next day. They were friendly, professional, helpful and said they would be happy to liaise with the plumber to make sure the scaffolding was set up for his needs. I was also given extra time at no extra cost in case the weather changed. It was a pleasure doing business with Unity Scaffolding and I would happily recommend them for future work."
– Stephanie Stone, Hillsborough, Auckland
Let's Build Something Together
Fortifying strong relationships with our clients and their people is what builds great buildings. When you hire us for the job, we become part of your build team. "Nothing is a problem" — that's our attitude. We do whatever it takes to get the job done.
How much does it cost?
There are a lot of factors that go into the price of a scaffold, such as location, size, even parking! Instead of guessing, our team of friendly professionals are ready to visit your property to determine the best way to complete your job at the best possible price.
When can I get a scaffold?
Generally, we're able to get a team to your place within a few days. We're flexible, and able to work to your schedule. We're often busy in the run up to Christmas, so if you'd like a scaffold for some DIY over the break then be sure to book in advance!
How long can I keep the scaffold? What if my job runs over time?
Scaffolding is usually hired on a weekly basis, and you can keep it as long as you need it. We will never ask you to return it before you're ready and the job is done!
It's only for a small job; it sounds expensive!
If we know what you want the scaffold for, we're often able to build it specially for that purpose — which saves you money. For example, if you only need to access the roof, then there's no need to pay for platforms at every level of scaffolding.
Building a scaffold on my property doesn't seem possible...
Scaffolding is incredibly versatile, and what's possible is only limited by the builder's imagination. Luckily, all of our teams hold New Zealand's highest scaffolding certification, so you can be assured that we'll find a solution like building bridges so that we don't block your garage door or damage the vege garden.
How am I meant to know what scaffold the roofer/painter/builder wants?
We don't expect you to! Just give us their phone number and we'll sort out all the details on your behalf. Or, if you're doing the job yourself, we can suggest the best access solution to make it as easy and affordable as possible.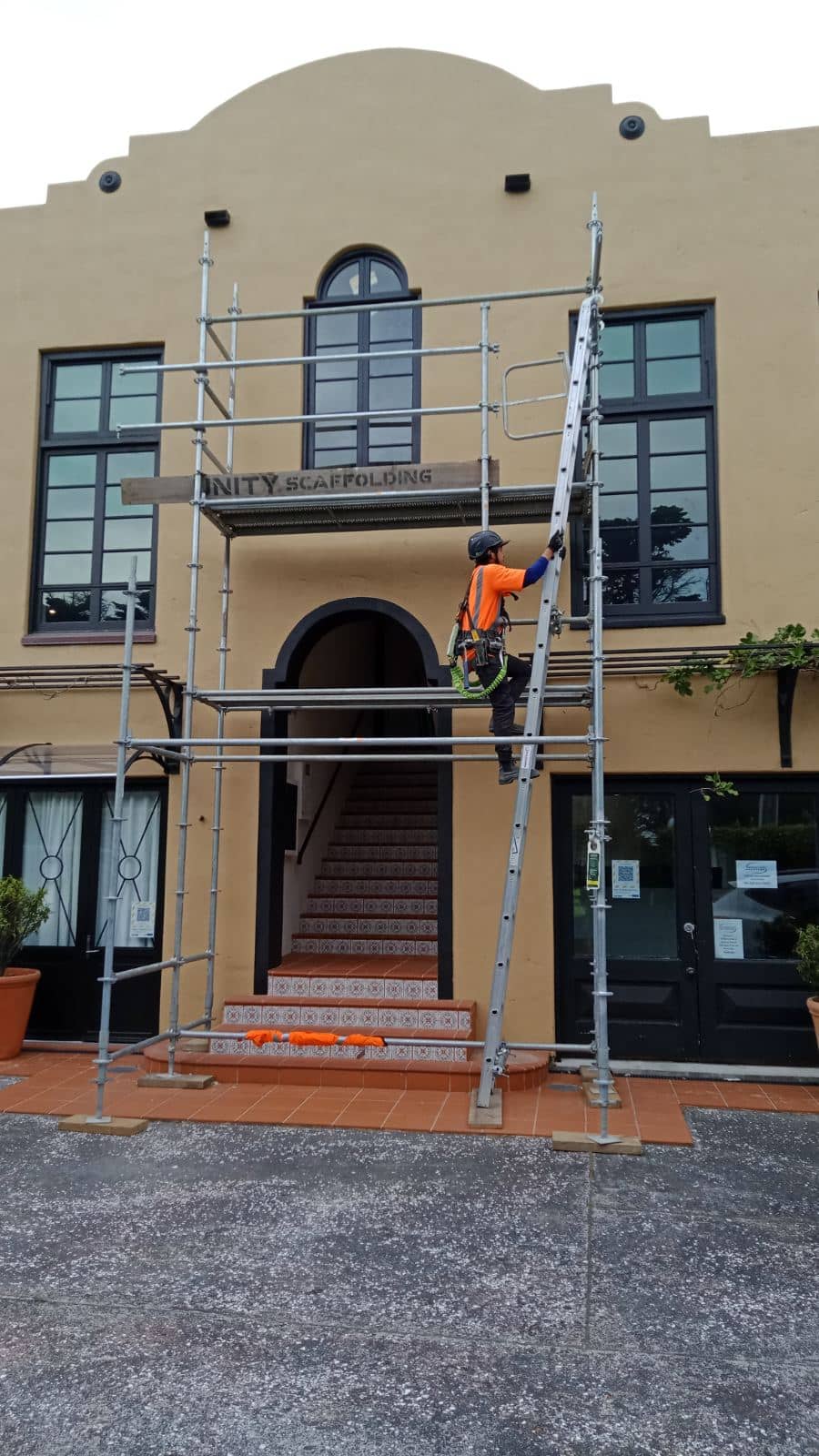 Window Repair in Devonport
"We can heartily recommend Unity Scaffolding for your next job. They responded promptly to our call, assessed and quoted for the job by the next day and had a team on site within 2 days and adjusted the set up on site to better accommodate our builders requirements without any hassle. They turned up the day after the job was finished to clear the scaffolding away. What more could you ask for? Very happy with the job and pricing, an easy company to recommend, wish all building related companies were as helpful and accommodating. Our thanks to the Unity Scaffolding team."
– Terry & Penny Humphries, Devonport, Auckland
Get a Quote For Your Project